We Want To Hear From You...
248.715.9222
As IAG has grown and advanced over the decades, we've never lost sight of the value of talking. And though technology is great, we still feel that best way to get to know our customers is to actually talk to them. Because the better we know you, the better we can help you manage your risk. So give us a call.
When Is the Best Time to Market Those Cash Crops?
Don't Worry. IAG has the Answers.
What We Do
Commodity prices? Market research? Grain futures? Don't stress. Leave it to the risk management experts at IAG to deliver the agricultural marketing reports you need with the strategies to make the best decisions for your agribusiness.
International Agribusiness Group is the ultimate ag marketing resource for people in the field - whether that's investors in the field of finance or farmers in a field of grain. So how do we determine the best time to market? For starters, we keep a constant eye on commodity prices so we know the exact time to strike.
But that's just the beginning.
How We Do It:
We start with the numbers.
Just when you're wondering whether the increase in livestock prices will affect the corn and soybean markets, IAG will have the risk management commentary you need to make the best possible marketing decision for your agribusiness. We analyze and watch market trends to get farmers the best price on their cash crops and give investors, in turn, the highest return on their investment.
And we do this with minimal risk along the way.
Why Work with IAG:
The advisors at IAG have 80-plus years of proven experience in agribusiness risk management. We come from backgrounds that extend beyond finance and analysis. Many of us also come from farming families or are farmers ourselves. We understand the grit, stress, and passion it takes to be successful in the agricultural industry.
This makes us uniquely qualified to understand the risks involved for both farmer and investors.
At IAG, we're in the business of helping you get the most from your agribusiness and investments. In fact, we're so confident of our agricultural marketing services, we're willing to give them to you 90 days free of charge. Want to talk? Give us a call.
"We should be careful to get out of an experience only the wisdom that is in it and stop there lest we be like the cat that sits down on a hot stove lid. She will never sit down on a hot stove lid again and that is well but also she will never sit down on a cold one anymore." -- Mark Twain
Our Company
International Agribusiness Group
An independent consultancy with an unrelenting passion for Food and Agriculture. Comprised of a select group of consultants, IAG works with businesses exposed to agricultural commodity price risk. The consultants' varying backgrounds and industry experience help create a team with unique expertise.
Read More ...
Improve our clients' aptitude in market outlook and risk management strategies. Use IAG's unique experience to provide data-backed risk management insight and solutions. IAG doesn't report the news or chronicle the past; IAG provides a clear, actionable outlook for the future.
Read more ...
Interactive Marketing Reports
Only IAG Puts the Numbers at Your Fingertips
Innovative IAG reports provide visualizations that are unlike anything else in the industry. Sent weekly, customers use these reports to do their own analyses, or they can turn to the experts at IAG to interpret the data and advise them on their next strategy.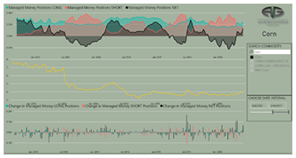 CFTC: Commitment of Traders
This weekly report shows the managed money(speculator) position. Upon re-ceiving this report, the customer is able to input any commodity to see how the position impacts price over any designated time frame.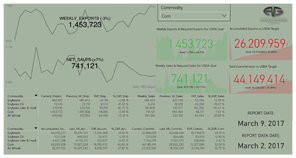 FAS: Weekly Export
This report highlights the level of export for different commodities. Data tracks the current export rate versus expectations, and where it is historically. It also shows the destinations of exports and which countries are buying.
At IAG, we know that current data is better data. And better data equals better decisions.
Call or email us now for the most up-to-date data.
View More Reports