Interactive Marketing Reports
Only IAG Puts the Numbers at Your Fingertips
Innovative IAG reports provide visualizations that are unlike anything else in the industry. Sent weekly, customers use these reports to do their own analyses, or they can turn to the experts at IAG to interpret the data and advise them on their next strategy.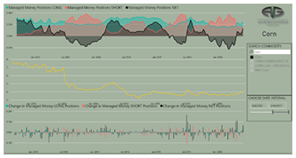 CFTC: Commitment of Traders
This weekly report shows the managed money(speculator) position. Upon re-ceiving this report, the customer is able to input any commodity to see how the position impacts price over any designated time frame.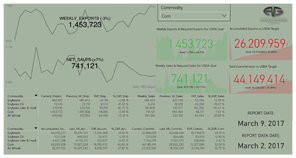 FAS: Weekly Export
This report highlights the level of export for different commodities. Data tracks the current export rate versus expectations, and where it is historically. It also shows the destinations of exports and which countries are buying.
At IAG, we know that current data is better data. And better data equals better decisions.
Call or email us now for the most up-to-date data.
Outlooks & Literature
Let Our Up-to-Date Data Aid You in Understanding Risk.
Please fill out the form below and click 'Get Your Documents' to download the latest literature from IAG