US Expansion of Soybean Area Leaves the Wheat Market More Reliant on Russia
US Expansion of Soybean Area Leaves the Wheat Market More Reliant on Russia.
How did we get record inventories of grains and vegoils? World wheat yields at or above trend five years in a row, record US corn and soy yields 3 of the last 4 years, record Brazilian corn and soy yields in 2016, and expanded wheat area and record wheat yields in Russia two years in a row.
The Russian wheat production is crucial because Black Sea wheat will set world wheat values. The increase in Russian production has offset the loss of production in the US and Canada as North America has moved almost 5 million hectares of wheat into vegoil production – soy and canola – in the last five years (Graph 1). Argentina has increased wheat production, but that was a result of politics and the growth has stopped. Growing soybean demand will continue to require additional acres of soy and North America is likely to provide many of those acres, again at the expense of wheat. Offsetting the future loss of wheat area will require more economic reward than today. It will take higher prices to incent an increase in wheat acres. The increase can come from Russia, but it leaves wheat values more vulnerable than ever to a weather issue in Russia. Just go back to June 2010 to see how a Surprise in Russia can impact the wheat market. A drop in Russian wheat yields to 2.7T/Ha vs. 3.02 in 2017(Graph 2), would make the wheat market interesting.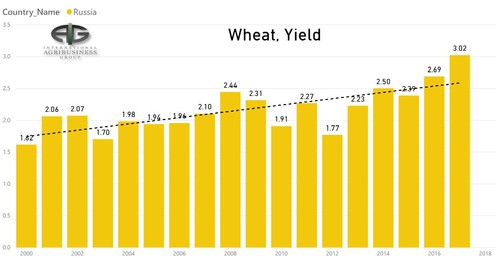 Don't be too bearish. Don't be too short going into the 2018 Northern Hemisphere growing season.