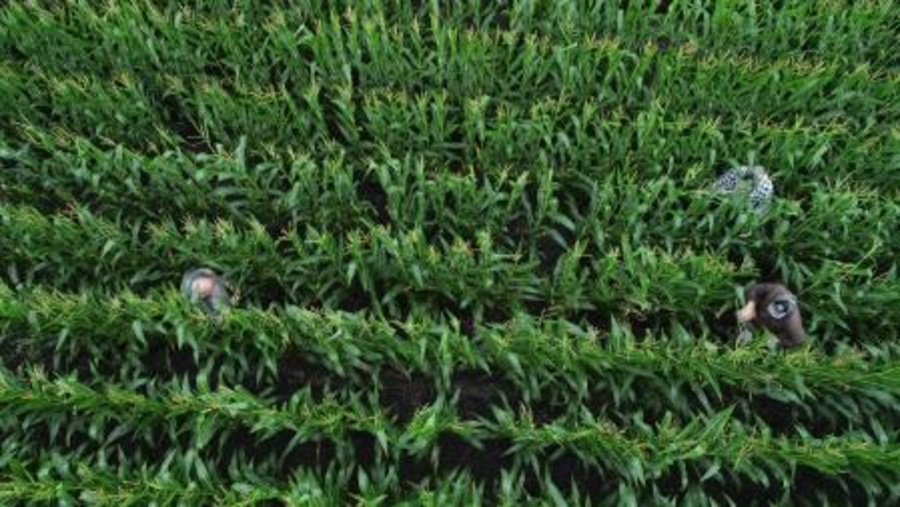 SPECIAL 2018 Crop Tour FINAL Wrap up
IAG Crop Tour – Wrap up.
By Ben Fisher
First, additional links to more information, including the YouTube video addendum. This year's footage is in 4k and we got some great views of corn and soybean fields. Some issues were only apparent from the sky, but the bulk of the videos show a well- developed, even crop.
YouTube site: https://www.youtube.com/watch?v=NhNjmHKRC_I&list=PLnBorAJnI_izfTKUC3uHUjwogizr2UL2T
IAG Website: https://iag-group.com/
Crop Tour Blog: https://iag-group.com/blog/iag-2018-crop-tour-update
2,000 miles
22 stops, 7 states visited
200 ear samples taken, 66 population measurements, 112k kernels counted 35 soybean plants pulled, 1,459 pods counted
1 John Deere hat acquired
Corn

o The 2018 corn crop is big. As big as last year.
o The development stage varies significantly from southern Minnesota to southern Iowa. More so than in previous years. Minnesota can still fully benefit from additional precip.
o Corn in southern Minnesota is in blister. Warm weather has advanced the crop to dent or early dent stage in the southern half of the Midwest. This is similar to what we would normally see in LH August.
o Populations from our samples were up 5% from last year and up 2% from 2016.
Biggest improvement was in Indiana but that was likely a function of depressed numbers from replanting last year.
o The number of kernel rows on each ear of corn was unchanged from last year.
o Ear length was slightly disappointing, but not a surprise as farmer continue to push populations.
o There was no consistent issue. All problems we found were generally small and localized.
o There is a significant difference in moisture in the fields when you compare Minnesota to southern Iowa.
o Parts of central/southern Iowa and a section of Illinois are too dry and crop stress there is beginning to show.
o According to our samples, Illinois will outperform Iowa this year.
o We do not think the corn crop is in as well of a position to benefit from August/September weather, at least for the lower half of the Belt. The crop will likely have similar potential to last year but got here along a different path. o Our yield estimate for the US is in-line with the USDA August report (178.4 bpa), give or take 1.5 bushels.
Soybeans
o Just about everywhere we went, the soybean crop was in good health.
o Ponding was evident in northern and western parts of the Corn Belt but the holes were rarely larger than 5% of the field.
o There is still potential to add pods to the top half of plants in most fields. Typical for this time of the year.
o Additional rains over the course of the next few weeks could make this a very big crop.
o There was very little disease or insect pressure to be found in the areas we travelled.
o We were not able to find a single Aphid, despite rigorous checking.
o The only difference we saw in fields ranging from Minnesota to Ohio were based on farmer practices. planting width, populations, variety, etc.
o The August yield forecast at 51.6 bpa is reasonable and could get bigger if we see near to above precip over the next 3 – 6 weeks.
This is the IAG Crop Tour, signing off for 2018.
This publication is intended for informational purposes only and the opinions set forth herein should not be viewed as an offer or solicitation to buy, sell or otherwise trade futures, options or securities. All opinions and information contained in this document constitute International Agribusiness Group's ("IAG") judgment as of the date of this document and are subject to change without notice. IAG and their respective directors and employees may effect or have effected a transaction for their own account in the investments referred to in the material contained herein before or after the material is published to any customer of a Group Company or may give advice to customers which may differ from or be inconsistent with the information and opinions contained herein. While the information contained herein was obtained from sources believed to be reliable, no Group Company accepts any liability whatsoever for any loss arising from any inaccuracy herein or from any use of this document or its contents. This document may not be reproduced, distributed or published in electronic, paper or other form for any purpose without the prior written consent of IAG. This report has been prepared without regard to the specific investment objectives, financial situation and needs of any particular recipient. For the customers of IAG, this report is produced exclusively for our business and expert clients, it is not for general distribution and our services are not available to private clients. Past performance is not indicative of future results.
The risk of loss associated with futures and options trading can be substantial.
International Agribusiness Group, LLC, 33533 West Twelve Mile Rd, Suite 145, Farmington Hills, MI, 48331, 800.334.8881.