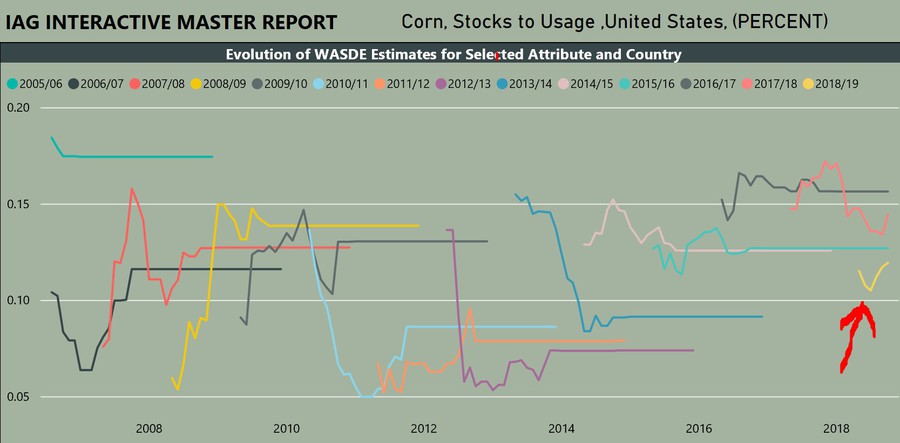 Something About Corn - Running At A Deficit
Items supporting corn prices:
Shrinking stocks.
Demand growth in feed and biofuel.
Tight stocks of wheat at major exporters.
Items not supporting corn prices:
Soybean stocks and trade.
Shrinking stocks:
When was the last time the US hit record corn yields three years in a row? Answer: 1985, 86, and 87. Anyone remember the 80's with three billion bushels of government stocks and PIK n Roll? When was the last time the US hit record corn yields 4 of 5 years? Since 1970, only the last 5 years. Why is this significant? We've had record yields and stocks are shrinking. US stocks to usage has not been this low since January 2014. Maybe current hybrids are weather proof and every year is a record? I'm not a believer.
Corn stocks in major exporting countries are running at a 10 million metric tonne (MMT) deficit annually, with Brazil and Argentina growing normal crops. 10 MMT equals 2.1 million acres at 180 bushel per acre. The US will have to add four million acres next spring to offset the deficit and cover normal demand growth. If the US adds four million acres, but yields drop to 176, major exporter end stocks drop to 50 MMT, leaving stocks to usage at 2012 levels.
Demand growth in feed and biofuel:
Let's just agree we don't know the level of Chinese corn stocks. What we know is China is using more than they produce by about 25 (MMT), and the deficit is growing as they produce more ethanol. We have said the Chinese stocks were not a market factor, but there was a certain comfort in knowing the Chinese demand was satisfied. China moving to a 10% ethanol blend is an additional 30 MMT of corn usage. 30 MMT is over 1 billion bushels. IAG handicaps China reaching E10 sometime in 2022. Our estimates have the Chinese deficit growing by about 15 MMT per year – over 40 MMT in 2019. Chinese stocks are being depleted. We are getting closer to a date where the level of Chinese corn stocks will become a market factor, via imports of either corn or ethanol. My guess is China won't wait until the pantry is empty to begin importing. BTW: It takes 8.75 million acres at 180 bushels per acre to produce 40 MMT.
US E15 year around impact will be the topic of a future post. It's positive for corn usage.
Tight stocks of wheat at major exporters:
Beyond corn, wheat stocks have also dropped – major exporter stocks are equal to the lowest levels seen in ten years. Leaving less margin for error, especially for feed wheat. China has large wheat stocks. Wheat in the right proportion can limit corn rallies; it is not currently in the right proportion.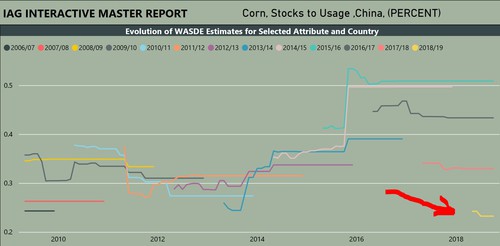 Soybean stocks and trade:
The only bearish factor in corn is the expectation of a significant increase in 2019 US acres. The market believes US corn acres will grow by 4-5 million acres in 2019. From the discussion above, much of the additional acreage will be needed just to eliminate the deficit. How easy will it be to add 4 million corn acres? We witnessed a significant battle for acres in the US this past spring. The underdog – wheat – was the victor. Corn and soybeans underestimated the strength of wheat. The 2019 acre battle may not be as easy as expected for corn. Obstacles to more corn acres in 2019 are: 1. Corn/soy price ratio at 2.3 favors corn, but does not include a possible $1.65 market assistance payment, 2. Cotton and wheat are unlikely to give back acres gained last year, 3. 2018 yields were relatively better for soy than for corn, and 4. Chinese soybean tariffs would have to remain.
How Bullish?
This is corn and just when it looks like fundamentals can push prices over $4 to stay, something happens, i.e. trade tariffs. Short term factors: S. American weather, speculator positions, and soybeans are bearish. Longer term, US acres have to grow and yields stay near 180, South America must grow a normal crop, and the Chinese soy tariffs must remain in place for corn prices to remain at the current levels. Use the short-term weakness to build a long position between now and January, or use longer term calls to cover risk against spot buying. Brazilian second crop growing season and the US growing season is the most likely time for something positive. Something this year would have a much larger impact than past years.