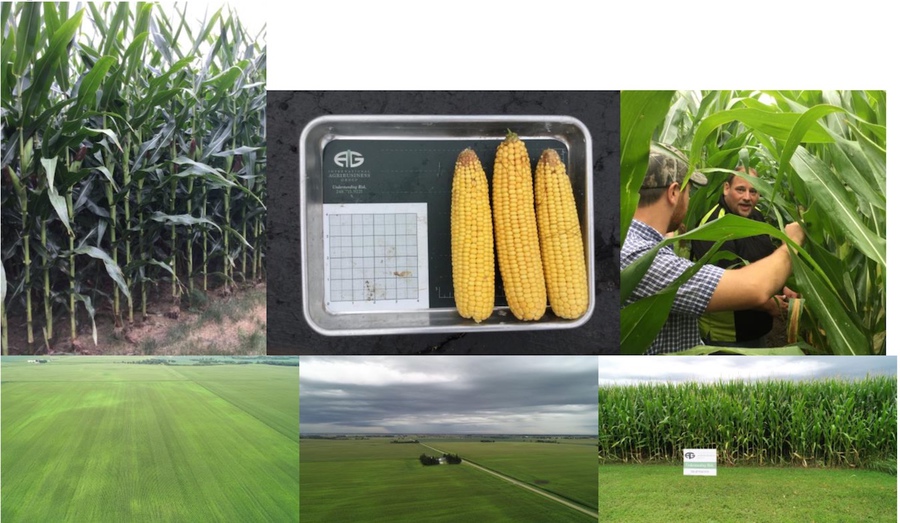 IAG 2018 Crop Tour Update
Starting with today's Bottom Line: Our trek began today in northern Illinois, cut across southwestern Wisconsin, crossed into eastern, northeastern, and then northern Iowa, and into southern Minnesota. We drove through some decent showers when we left Illinois but did not see heavy rain again until after dinner in Minnesota. Our notes from each field are featured below with some pictures but our general impression from today was the crop is good, but not blowing us away. Ear sizes did not seem larger than normal and in fact, we felt population had pulled back a bit from last year. Our first few fields from northern Illinois to eastern Iowa were estimated sub-200 bpa which is not above trend for these areas. In all three cases, the ear sizes were normal but the populations were lighter. In fact, 2017's first day population average was 31.7 ears per acre while this year's average was 30.6 ears. Average rows for ears were 15.90 vs 15.87 in 2017, virtually unchanged. Most of you know what I think of calling our collected measurements a 'data set' as it is far from extensive, but it is interesting to see how the numbers line up.
On the soybean side of things, it is always difficult to judge this time of year but our overall impression was that the crop looked in good shape. Development varied but where there were not strong pod counts, there was still potential for growth. Some disease and insect pressure but that is to be expected. So far, the feeling is above normal trend.
There is a lot of road left and tomorrow we are covering areas that could easily change the entire picture, not to mention east of the Mississippi River on Wednesday. We still have big hopes for this year's crop and are excited to see what we can find tomorrow. For now, this is the IAG Crop Tour
– Signing off-
-Ben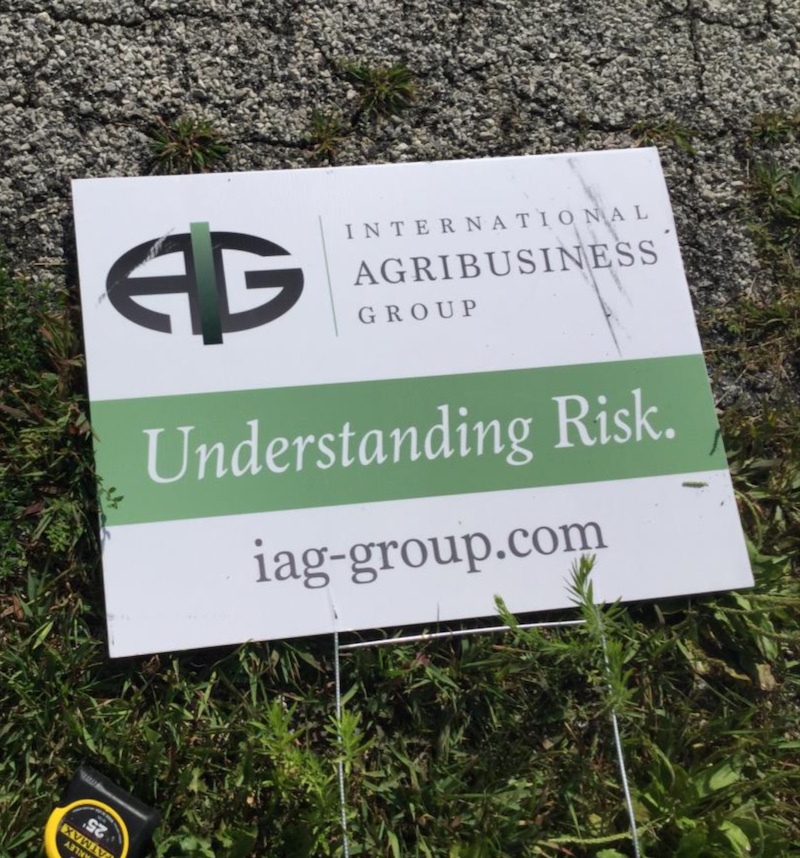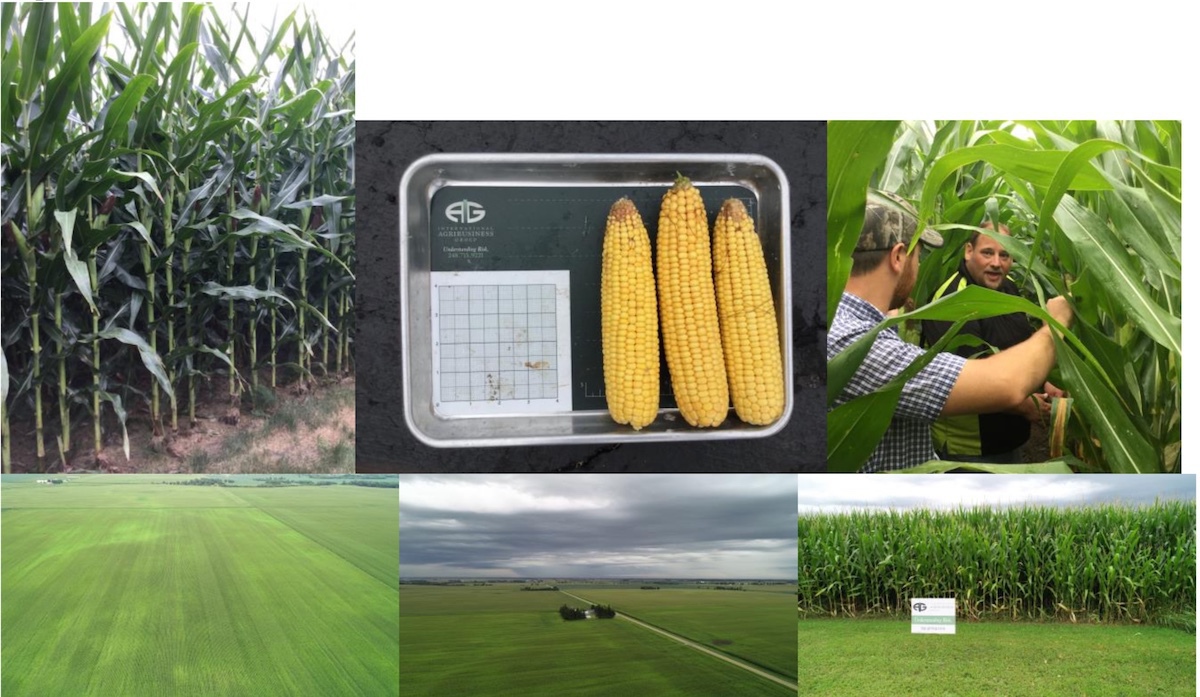 Corn observations: Our traditional first stop where we get our yield check training. Farmer planted 36,000 but had too much rain after planning. Had to fly on the last urea application. A decent rain after that did help but the evidence backs up the story. Overall, healthy looking corn but there are signs of low nitrogen visible at the bottom of the stalks and on some leaves. Ave yield guess of 180 bpa. Disappointment.
Soybean observations: 38" plant, rains needed but the potential is there. Very small pods - hard to count final pods as the plant is still blooming on the upper half. 3 beans per pod - R3-R4 - minor pest damage. Not fully canopied. 30" rows. 140k est pop. Big potential still in the field.
Stop 2 – Winslow, IL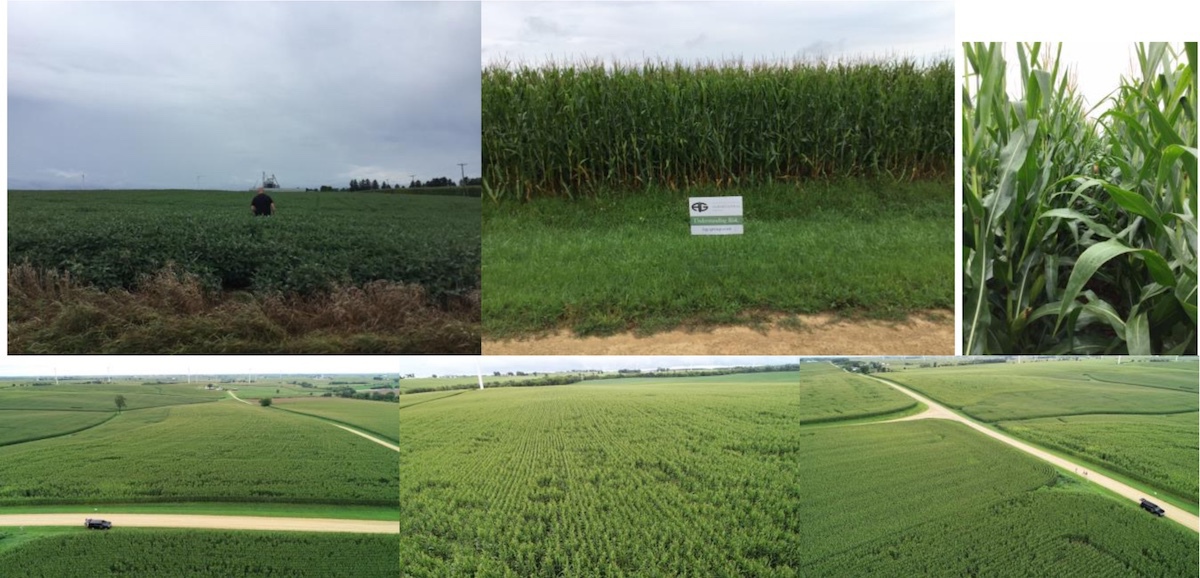 Corn Obs: Healthy looking crop, no signs or very little of de-nitrification or dryness. Adjacent fields show evidence of lodging from wind damage (the holes in the crop). Yields suffered from low population and ear size. Yield estimate 170 bpa.
Soybean Obs: Still growing but further along than the Dekalb sample. Pod counts on two plants: 29 and 53 pods. Mostly 3 & 4 bean pods. Slight evidence of SDS. 20" rows and population estimate of 160k. Some disease pressure but rain today should help crop along nicely.
Stop 3 – Epworth, IA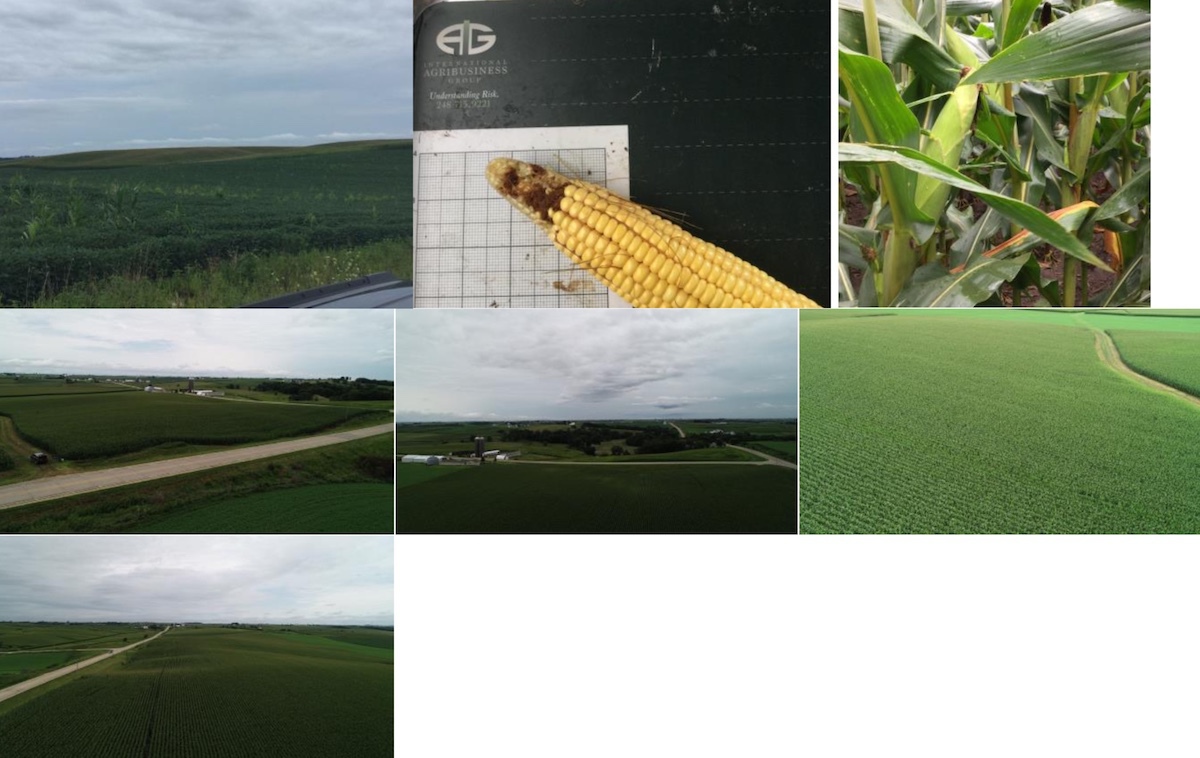 Corn Observation: Slight de-nitrification. Heavy top soil moisture. Ear populations average about 30k. Kernel rows averaged 14.4 around. Again, not finding the big ears. 14-16 normal. No 18s. We did take a sample with ear worm, but insect pressure was not excessive. Area had been wet with strong soil compaction. May 130% of normal. June 175% of normal. But July 82% of normal. But received 2" yesterday and today. Yield guess 170. Thought it would be bigger from road/sky.
Soybean Obs: 30" rows. Population guess: about 130k. Big strong plants, setting pods to the top. Pulled 2 plants. 2-3 beans per pod on one, all threes on the other. 50+ pods on both plants already. Crop canopied. No disease, no insects. Crop looks uniform and beautiful. No cracks in field. Potential looks much better than corn.
Stop 4 – Independence, IA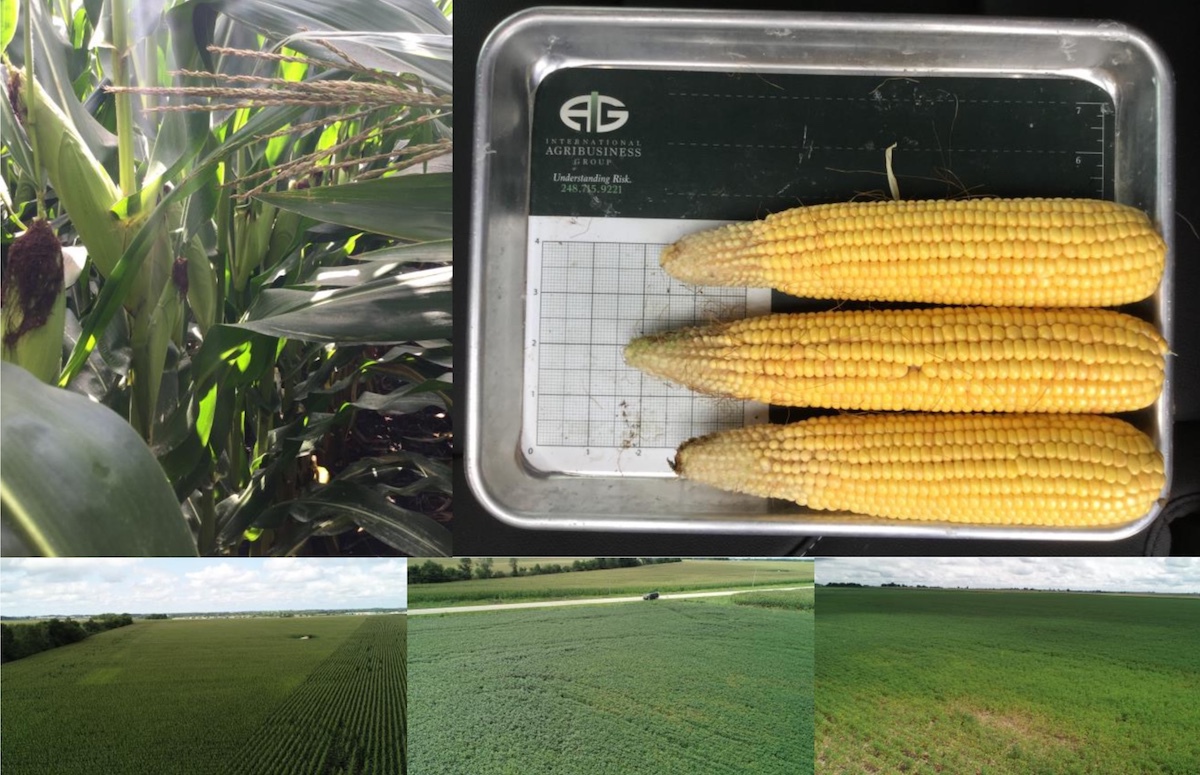 Corn Obs: Swamped through dark, peaty soil. Top soil moisture heavy! Very little signs of damage in the field. Initial thought was we were going to see another disappointment as the end rows looked shabby. However, once we were in the stalks, another story emerged! The stalks themselves were huge with the ears at head height. 1-2" tip back on every ear. Populations strong averaging over 33k per acre. But the ear size was there. FINALLY!!! On average about 18 around (16-20 actuals). Estimated yield 250 bpa with potential for another 20 bushels if test weights end up strong! It could be dry the rest of the season and this crop will be fine.
Soybean Obs: 20" rows and lighter populations. Best guess close to 110k. On the flip side, plants were huge! We counted 98 pods on a single plant. Leaves were eaten by something and the lower leaves were shaded out. 40" tall plant. Nice looking from the air but evidence of a few ponded spots (last picture on right). Strong potential.
Stop 5 – Rudd, IA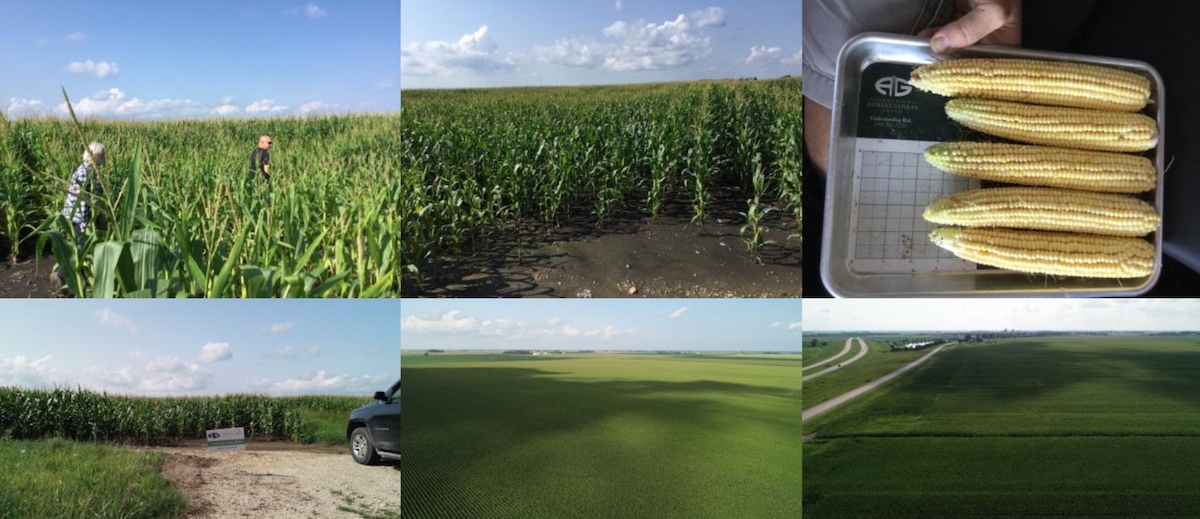 Corn Observations: Young plants, just entering dough. Not a surprise this far north. Dark and rich top soil, plenty of moisture (a bit soft). Free of most pests and problems. Healthy. Did note the lightest of earworm signs. Very uniform from the air as well as surrounding fields. Populations decent, around 32k. Ear size was notable thinner with 12 – 16 rows but the length of the ear made up for it (nearly 40 viable kernel average) and still showed normal tip-back. Average yield guess: near 200 bpa.
No easily accessible bean field in area.
Stop 6 – Waseca, MN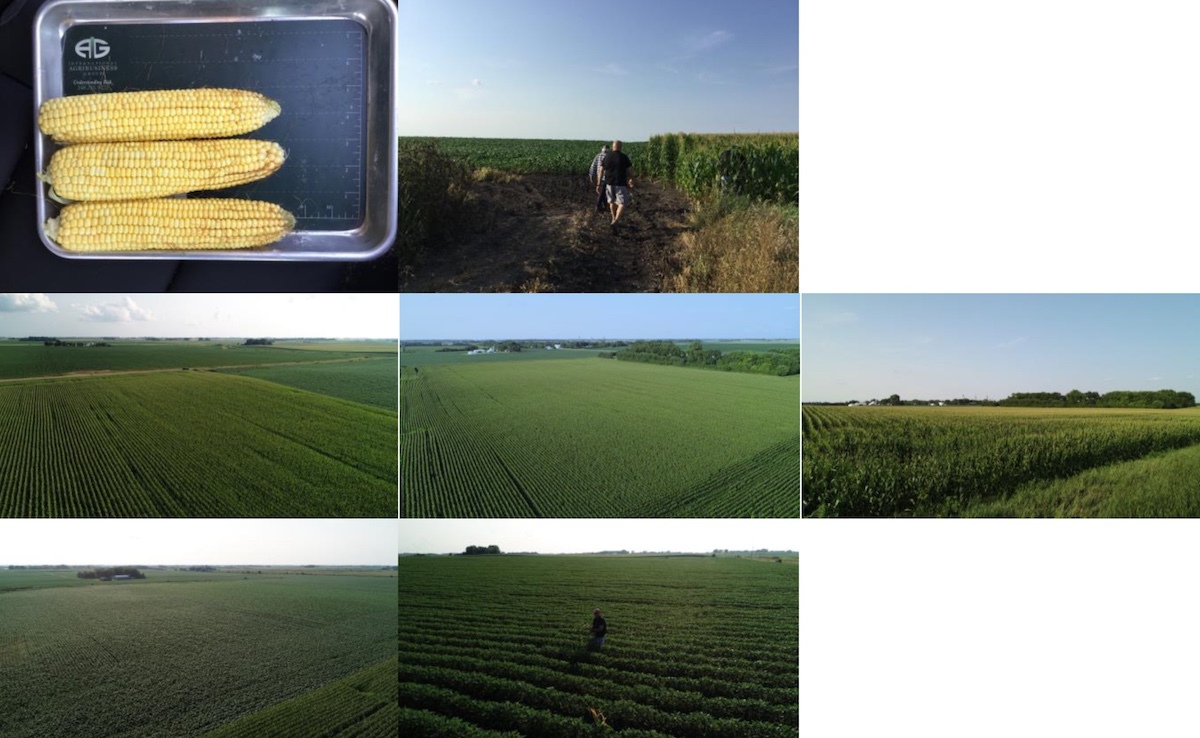 Corn Observations: These are the 'Big Boy Ears.' Averaging almost 18 rows around AND nearly 37 kernels in length! Waiting all day to see these. However, lower populations around 30k kept the potential yield from being huge. Weak tip-back indicates farmer could have pushed populations higher. Still in dough stage. Field not overly wet. Average yield guess 210 bpa. 190 – 220 range.
Juxtaposed next to our sample field was a very, very late planted field. Seriously...knee high by August 6th? Area recorded almost 5" of rain in May and over 8" in June, predominantly in the first half of the month. Maybe for silage?
Soybean Observations: 30" spacing. Populations maybe 120k. Field not canopied. Field looked good from the road and the sky. But pulled two plants and both has bacterial leaf blight, typically supported by cool, wet weather. Pod counts on two adjacent plants were 51 and 28 but there were still budding pods. Potential may be stunted by disease but far from a total loss.
This publication is intended for informational purposes only and the opinions set forth herein should not be viewed as an offer or solicitation to buy, sell or otherwise trade futures, options or securities. All opinions and information contained in this document constitute International Agribusiness Group's ("IAG") judgment as of the date of this document and are subject to change without notice. IAG and their respective directors and employees may effect or have effected a transaction for their own account in the investments referred to in the material contained herein before or after the material is published to any customer of a Group Company or may give advice to customers which may differ from or be inconsistent with the information and opinions contained herein. While the information contained herein was obtained from sources believed to be reliable, no Group Company accepts any liability whatsoever for any loss arising from any inaccuracy herein or from any use of this document or its contents. This document may not be reproduced, distributed or published in electronic, paper or other form for any purpose without the prior written consent of IAG. This report has been prepared without regard to the specific investment objectives, financial situation and needs of any particular recipient. For the customers of IAG, this report is produced exclusively for our business and expert clients, it is not for general distribution and our services are not available to private clients. Past performance is not indicative of future results.
The risk of loss associated with futures and options trading can be substantial.
International Agribusiness Group, LLC, 33533 West Twelve Mile Rd, Suite 145, Farmington Hills, MI, 48331, 800.334.8881.